Fish Creek Nissan is proud to be granted the title of a Titan Excellence dealer for Calgary and area. As a Titan Excellence Dealer, we employ highly qualified technicians that are trained specifically for Titan trucks.
NISSAN TITAN® XD
OVERVIEW
---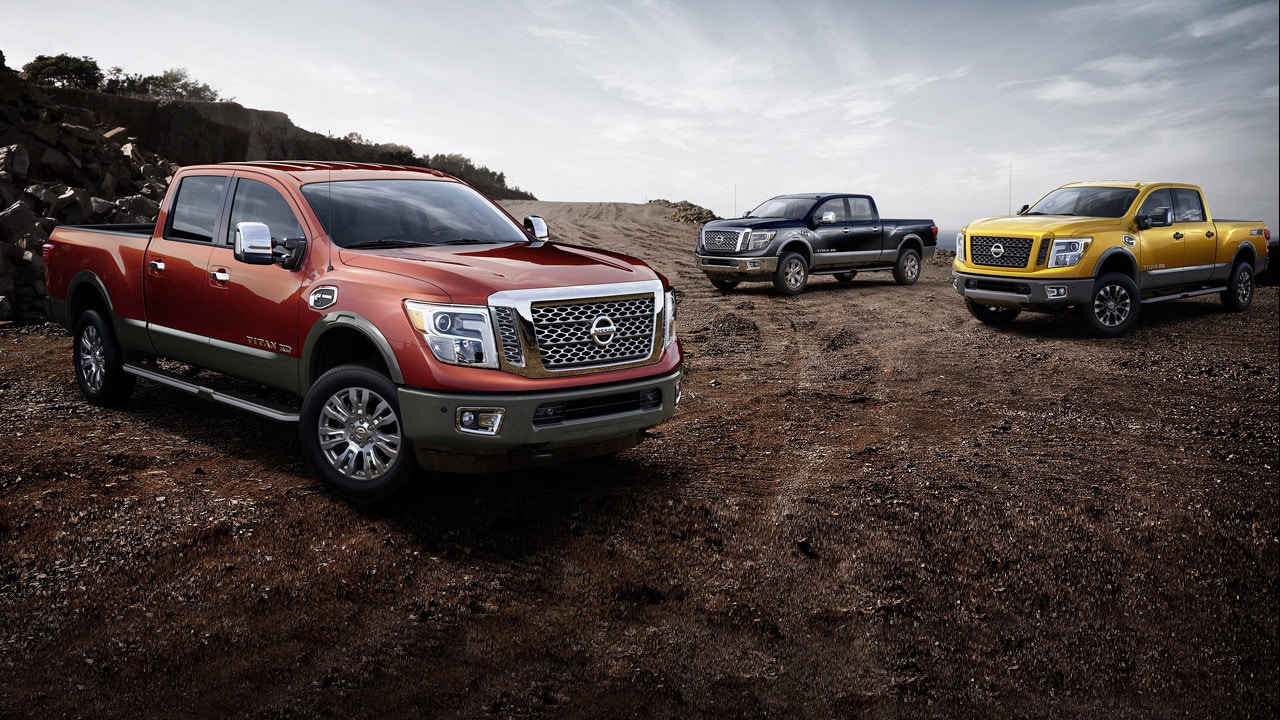 THE TITAN OF TRUCKS
With five trims of the Cummins-powered TITAN XD to choose from, there's a TITAN for every truck driver across Canada.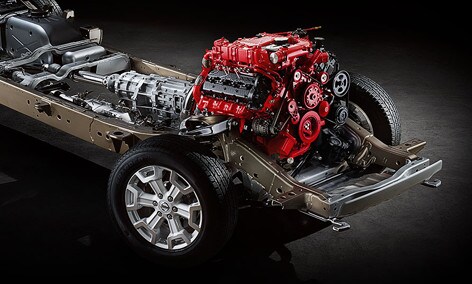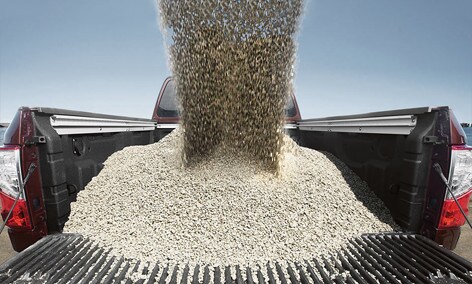 CUMMINS-POWERED
The first of a family of all-new trucks, with a heavy-duty attitude that delivers a payload over 2,000-lbs, and the capability to tow over 12,000 lbs.
A NEW CLASS OF TOUGH
Boasting 555-lb-ft of torque, heavy-duty brakes, and a larger high-strength steel fully boxed full-length ladder frame, the TITAN® XD will conquer whatever the job site can throw at you.
---
310 HP. 555 LB-FT. INFINITE POSSIBILITIES
CUMMINS® TURBO DIESEL
When you're towing over 12,000 lbs., climbing a steep grade in oppressive heat, or need to deliver a payload in the tray of over 2,000 lbs., you'll be glad to have legendary Cummins® power and reliability under the hood. Designed exclusively for the all-new TITAN® XD, this turbo diesel has tremendous reserves to call on when you need it. [*]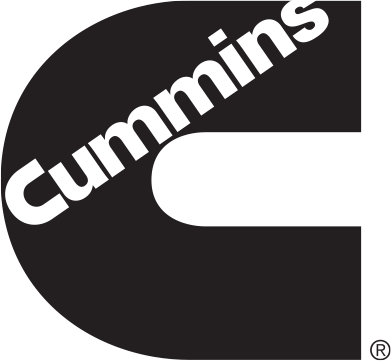 ---
TWO STAGE TURBO
Say goodbye to turbo lag. The Cummins 5.0L V8 Turbo Diesel gets a continuous power boost right through the RPM range, thanks to a first-to-market Holset M2 two-stage turbocharger. You get solid acceleration from the second you put your foot down until you get up to speed.
HIGH PRESSURE COMMON RAIL (HPCR) FUEL SYSTEM
Forget everything you've ever heard from a diesel engine. The new Cummins 5.0L V8 Turbo Diesel is outfitted with the latest Bosch® HPCR fuel system and piezo-style injectors to deliver precise fuel control and multiple injections per combustion stroke, which increases efficiency and drastically cuts down on 'diesel clatter'.
QUIETER ENGINE
Tough doesn't have to sound rough. The compacted graphite iron cylinder block and dual overhead camshafts contribute to the excellent noise, vibration and harshness (NVH) characteristics achieved by the Cummins 5.0L V8 Turbo Diesel engine.
RESPONSIVE DOHC
The high-revving Turbo Diesel uses Dual Overhead Cams (DOHC) to drive 32 valves (four per cylinder) for precise cylinder firing and maximum airflow through the cylinder heads. The DOHC and the Holset M2 two-stage turbocharger work together to deliver solid performance across the entire power band.
LIGHTWEIGHT CGI BLOCK
The new Cummins 5.0L V8 Turbo Diesel gives you maximum durability and power in a lightweight package. Extra weight was shed by building the cylinder block out of compacted graphite iron (CGI), which is stronger and lighter than traditional iron. Other lightweight engine components were added, like high-strength aluminum alloy heads and composite valve covers.
CLEAN EXHAUST SYSTEM
For decades, diesels had a dirty reputation for being, well, dirty. Technology has fixed all that. The new Cummins 5.0L V8 Turbo Diesel exhaust system has a particulate filter and selective catalytic reduction that enable the engine to run clean. That tech also serves a second purpose - it reduces noise. Power and efficiency is now clean and quiet.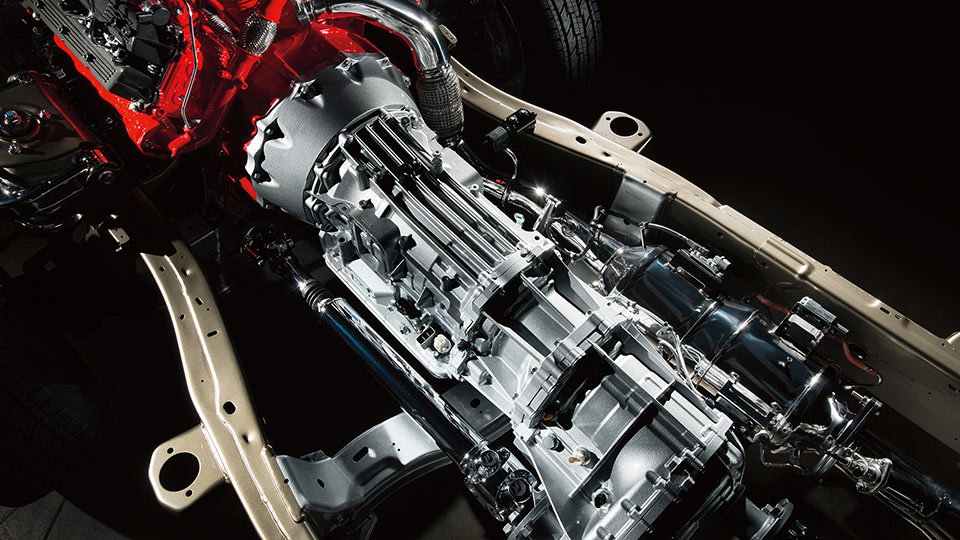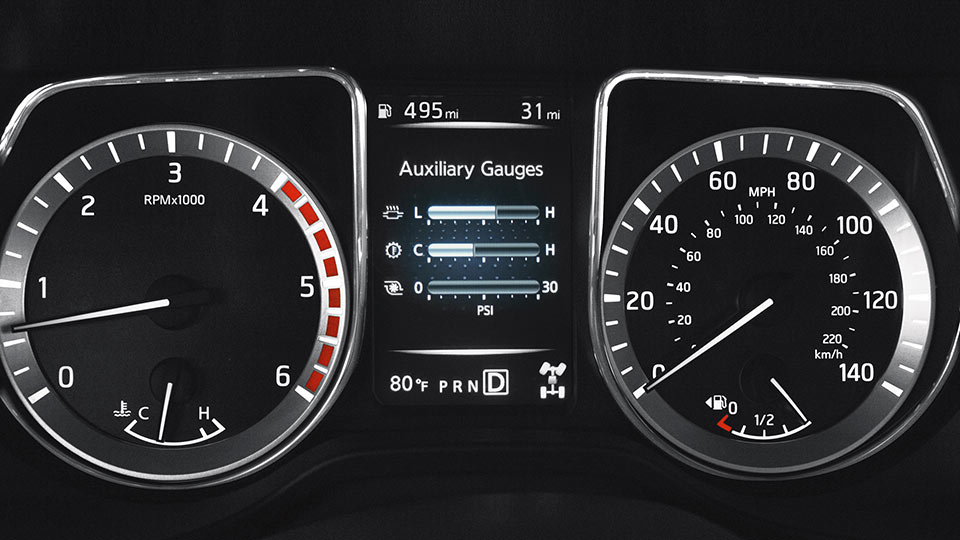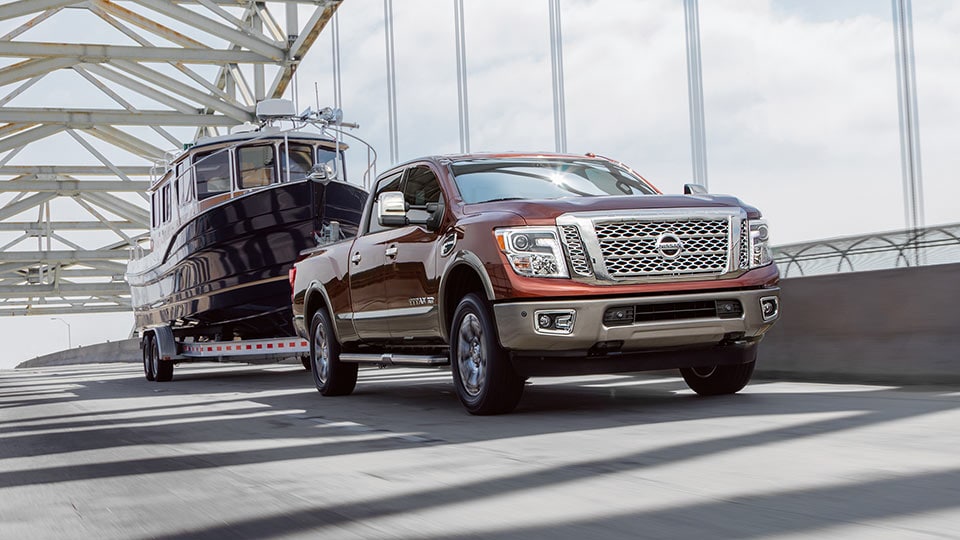 390 HP. 401 LB-FT. INFINITE POSSIBILITIES
ENDURANCE® 5.6-LITER 32-VALVE V8
Technical knock-out. TITAN® XD's 5.6-liter, Endurance® V8 gas engine combines brains and brawn. With a 4-valve-per-cylinder design and Nissan Direct Injection System and Variable Valve Event and Lift (VVEL), you've got the power you want with the efficiency you need.
---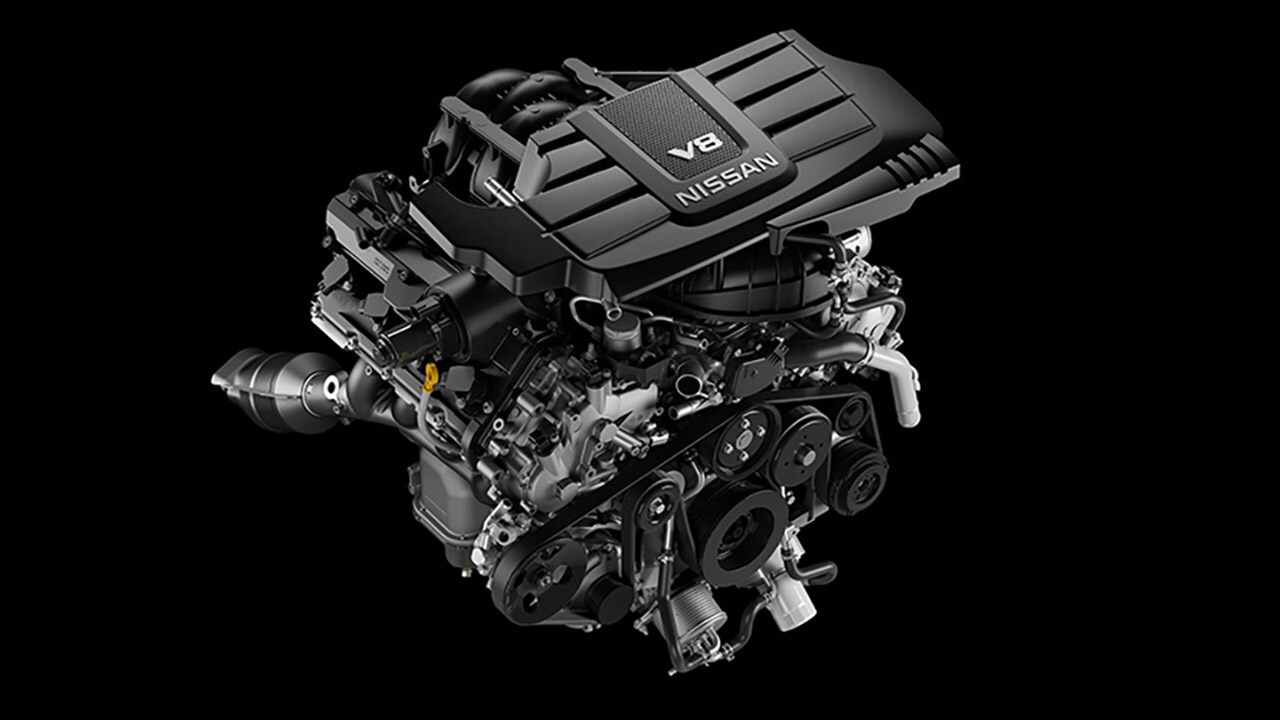 2,000 LB. PAYLOAD
Take on the tough jobs. With 390 hp and 394 lb-ft of torque, TITAN® XD provides the power to pull up to a 2,000-lb. payload.[*]
7-SPEED AUTOMATIC TRANSMISSION
Making the most of the powerful V8 is a new 7-speed automatic transmission designed to enhance performance and improve fuel efficiency.
DIRECT INJECTION WITH VARIABLE VALVE EVENT AND LIFT (VVEL)
With a Direct Injection Gasoline Engine, 4-valve-per-cylinder design, and Variable Vale Event and Lift (VVEL) on both Intake and Exhaust - you get the power, efficiency, and refinement all together in a tested, proven package.
MORE WAYS TO TOW
TITAN® XD gives you strength and flexibility. TITAN® XD's available gooseneck hitch was engineered into the frame design from the beginning, giving you the confidence to haul big loads. TITAN® XD is equally adept at trailer hitch towing and is designed with special features to make towing easy - even when you're hitching up and towing solo. [*]
NISSAN TITAN® XD
HIGH-STRENGTH STEEL FRAME
---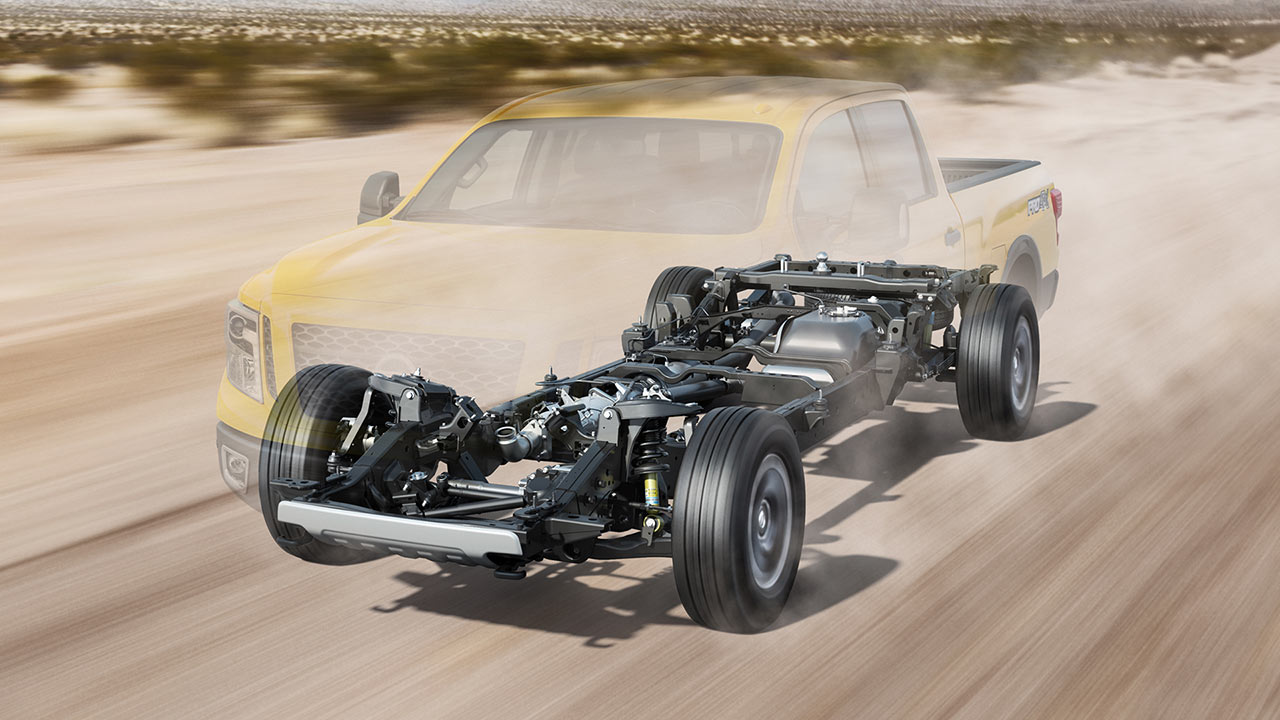 A CHASSIS THAT MEANS BUSINESS
The most important rule of construction - build on a solid foundation. TITAN® XD started with proven components from our Nissan Commercial Vehicles program and went from there.
FRONT SUSPENSION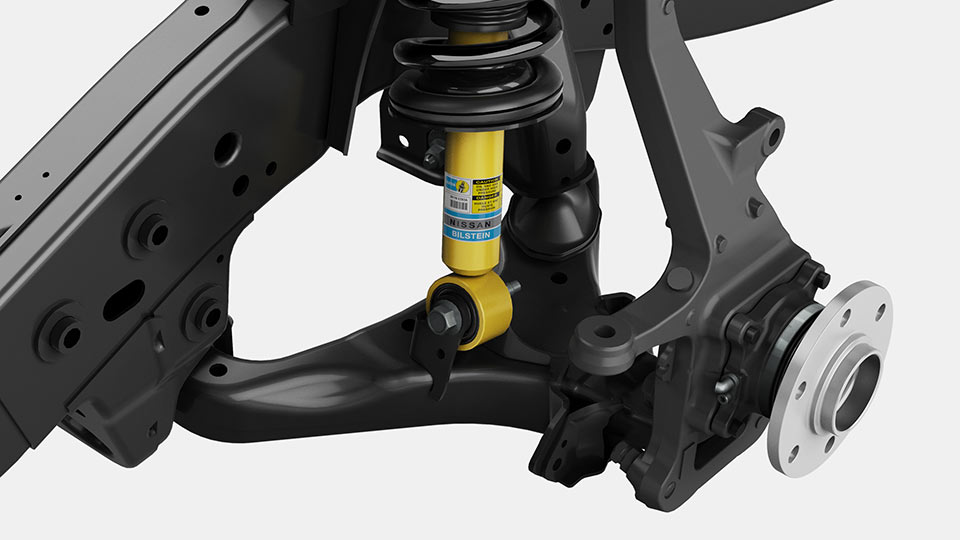 REAR SUSPENSION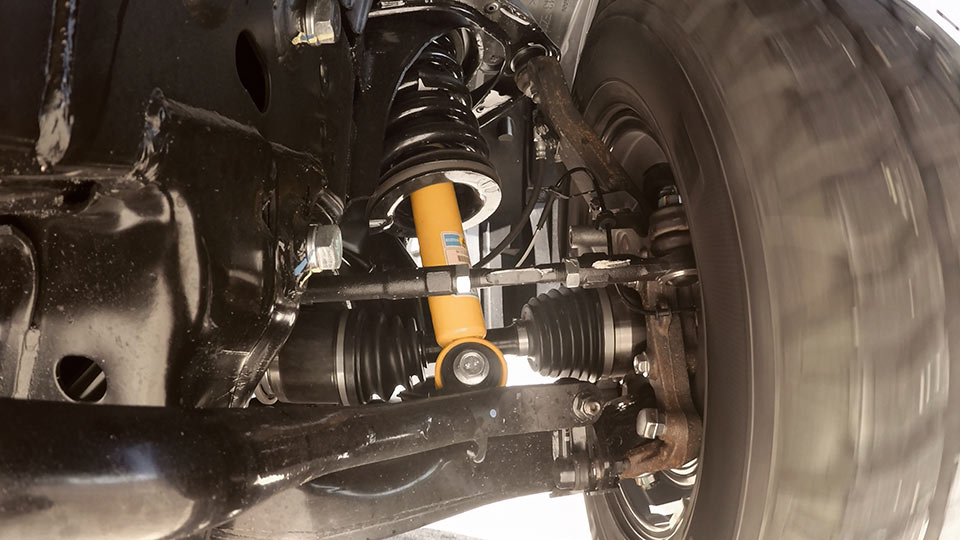 REAR DIFFERENTIAL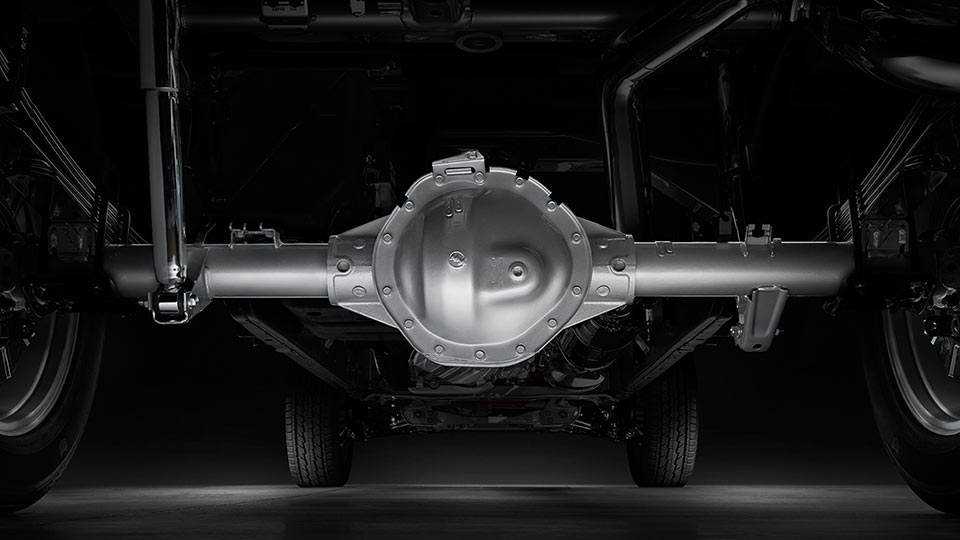 BRAKES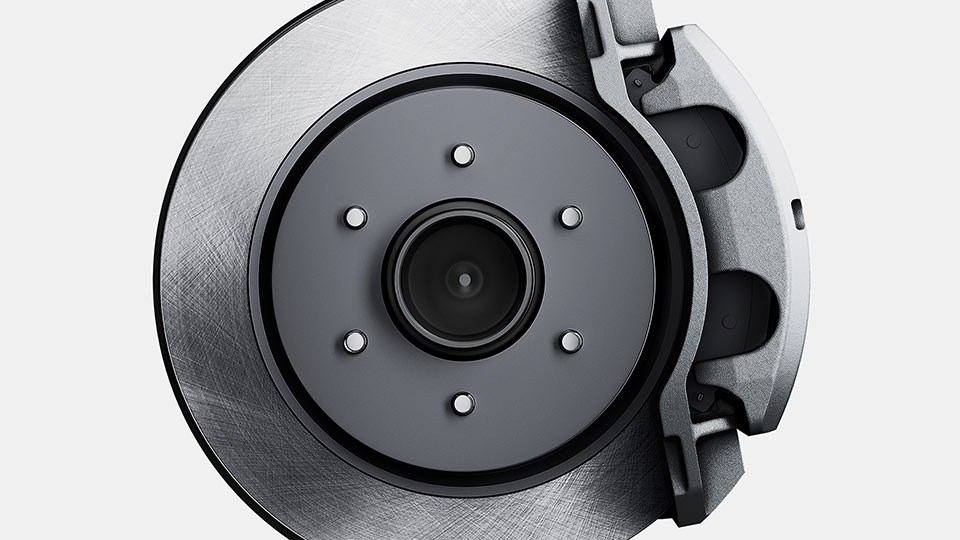 ---
OVER 12,000 LB. TOWING CAPACITY EQUALS MORE WAYS TO TOW.
When it comes to towing, TITAN® XD reigns supreme. From the ability to tow over 12,000 lb., to innovative features designed to make towing easy, TITAN®XD gives you the confidence handle even the biggest loads. [*]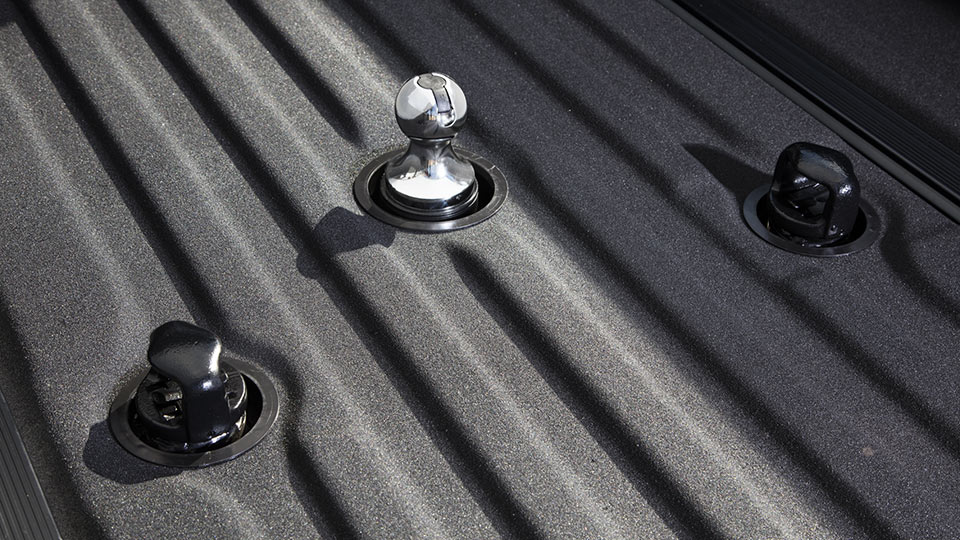 INTEGRATED GOOSENECK HITCH
When it comes to towing, TITAN®'s available gooseneck hitch gives you strength and flexibility. It was engineered into the frame design from the beginning, giving you the confidence to haul big loads and fifth-wheel trailers.[*]
REMOTE TRAILER LIGHT CHECK
Hooking a trailer up by yourself? The available Remote Trailer Light Check system lets you cycle through all the lights through your Nissan Intelligent Key®. No muss, no fuss, no help needed.[*] You can also check the lights on the Nissan Advanced Drive-Assist® Display in the cabin.[*]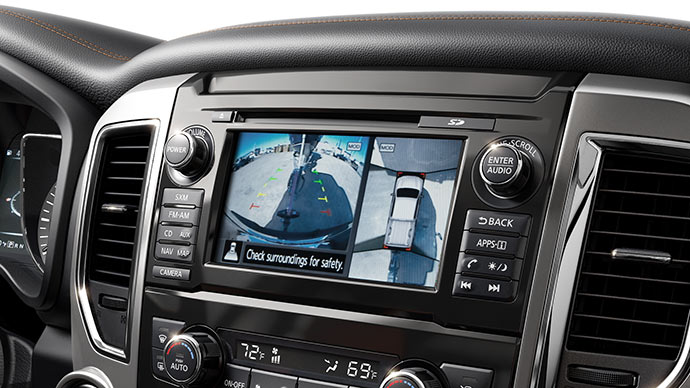 REARVIEW MONITOR
Helping to give you a clear view of what's directly behind you, the available RearView Monitor features guide lines to make picking up a trailer a simple task.[*]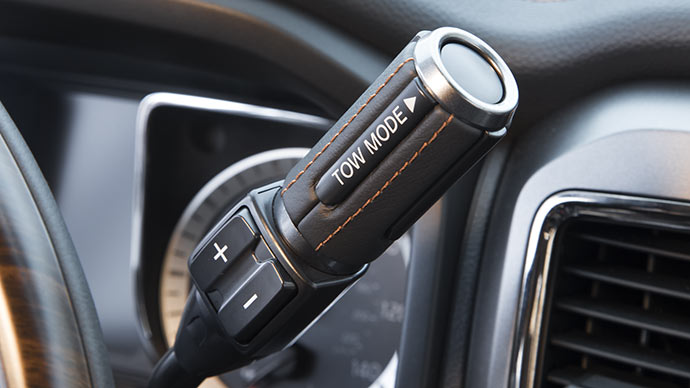 TOW-HAUL MODE
Tow-Haul Mode helps reduce hunting for gears for smoother, more confident towing.[*]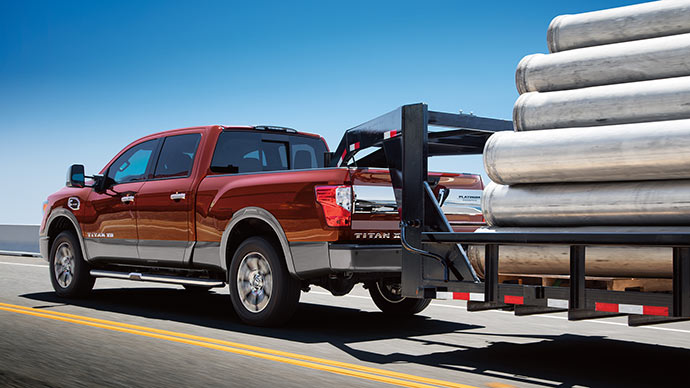 ANTI-SWAY
Trailer Sway Control can help keep the trailer in line whether it's crosswinds or bad roads.[*]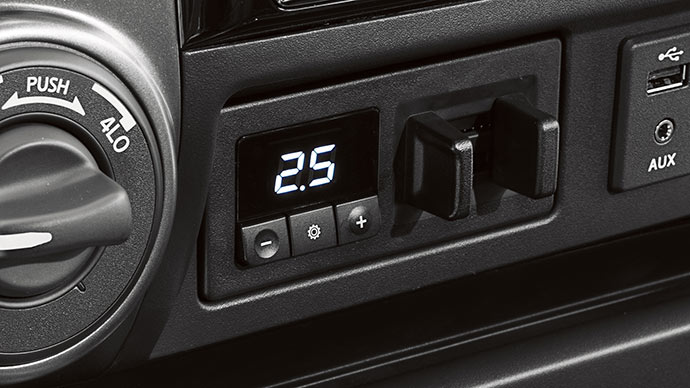 BRAKE CONTROLLER
An available integrated Trailer Brake Controller is conveniently mounted on the center dash to let you adjust or instantly activate the trailer brakes to aid directional stability. [*]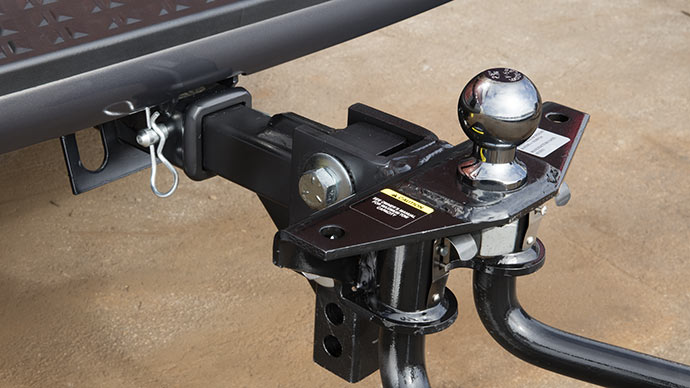 HITCH MOUNT
With over 12,000 lb. towing capacity, and the strength of a fully-length, fully boxed ladder frame, TITAN®XD lets you hitch tow with confidence.[*]